Professional Development
Professional Diploma in Management (with Specialization)
The course will teach you how to contribute to a company's overall strategy, and teach you how to understand and access both the external and internal opportunities and threats to a company.
COURSE OVERVIEW:
16 week online programme
24/7 Tutor Support
12 Modules
Choose from 5 additional skills to specialize in
Gain a Professional Diploma that is Credit Rated by Glasgow Caledonian University
Download a course brochure today for more information.
We're committed to your privacy. The information you provide is used to contact you about relevant content, products, and services. You may unsubscribe from these communications at any time. For more information, check out our Privacy Policy.
OVERVIEW
Course Information
This course is designed to equip you with the knowledge, skills, and practical experience you need to become an effective manager and leader in today's fast-paced business environment.

Case study approach
You will learn how to analyse real-world financial scenarios and apply your knowledge to solve problems and make strategic financial decisions.

Company analysis techniques
You will learn how to evaluate a company's financial performance and identify critical areas for improvement.

Strategic Management
This module is designed to develop an understanding of strategic management.

Team Management
This module helps you to design, build and manage a team effectively.

Change Management
This module looks at why change is needed in organisations and the role of leaders in overcoming resistance and making change.

Resilience
This module includes the importance of understanding resilience; the techniques to build self-confidence; dealing with aggressive behaviour; and recovering from mistakes.

Crisis Management
The learning outcomes include introducing key crisis management tools that provide guidance towards ideas.

Modern Performance Measurement
The learning outcomes include helping to overhaul your business's top-level internal reporting to make it something that is actually useful for the decision-makers in the business.

Data Protection
The learning outcomes from this module include showing compliance under GDPR rules; who and what to share about the data you are holding; understanding cookie policies; and access to sample documents.

Emotional Intelligence
Emotional Intelligence (EI) is defined as 'the ability to recognise and regulate emotions in ourselves and others'.

Glasgow Caledonian University Credit Rated
GCU Credit Rated means that a course or program is recognised by Glasgow Caledonian University (GCU) as having met the university's standards for academic quality and rigour. This means that the course or program has been evaluated by GCU and has been found to be in line with their expectations for content, delivery, and assessment.
Gain 20 SCQF Level 8 Credits on completion
1 credit is equivalent to 10 hours of learning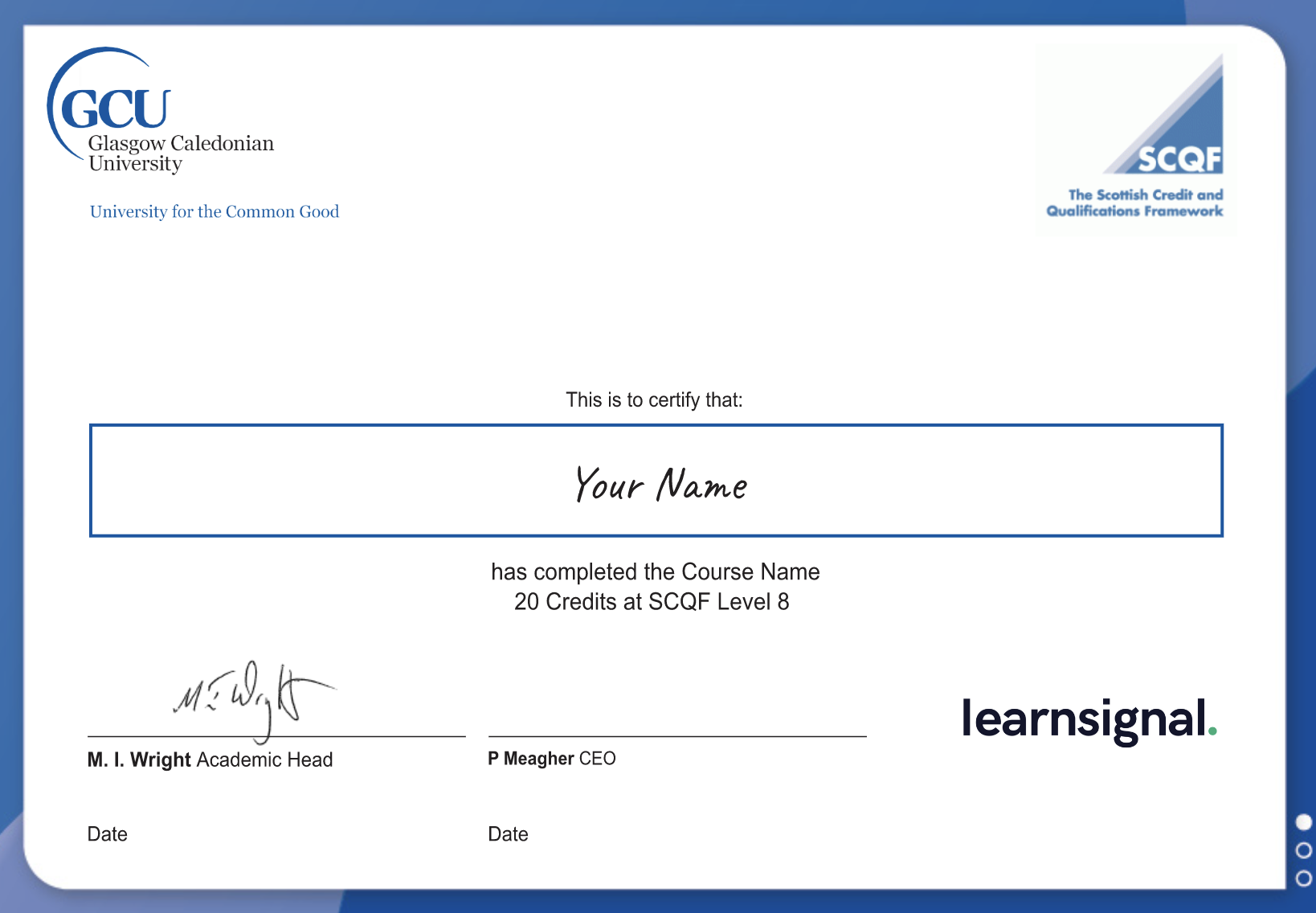 Online lectures and readings
You will have access to pre-recorded lectures and readings covering each course's material. These can be accessed anytime and can be paused, rewound, or reviewed as needed.
Discussions and Collaboration
You will have opportunities to engage in online discussions with your classmates and instructors.
Self-directed learning
You will be encouraged to take an active role in your learning process by reading additional materials, conducting research, and engaging in other self-directed activities.
Assessments and Quizzes
You will complete regular quizzes and assessments to test your understanding of the material and help identify areas where you need further study.
Support
You will have access to support services such as tutoring and academic advising to help you succeed in the program.
Each student will select an additional skill and focus area, which will determine the final diploma you receive. The final two modules in each course will depend on your chosen focus area. The 5 choices of specialization are:
Professional Diploma in Management and Leadership – Motivational Leadership and Effective Appraisals
Professional Diploma in Management and Project Development

– Accounting for Programme Management and The Role of Business Analysis

Professional Diploma in Management and Digital – Cybercrime and How Cryptocurrency Operates
Professional Diploma in Management and Risk

– The Basics of Risk Management & Governance and Cyber Risk Management and Reporting

Professional Diploma in Management and Ethics – Corporate Governance and Business Ethics

Course Fees include all materials and assessment fees.
Full access to content and resources

24/7 Tutor Support
Captstone Assessment included

Course Fee for 2023: £1500
Bursaries and funding may be available, get in touch with our team to discuss your options.
Get in touch with our team
We're committed to your privacy. The information you provide is used to contact you about relevant content, products, and services. You may unsubscribe from these communications at any time. For more information, check out our Privacy Policy.
Testimonials
Alumni Stories 🙌
Join thousands of students who have transformed their careers with learnsignal! You'll be in good company at learnsignal!
Approved Accounting & Finance Tuition Providers
Approved ACCA, CIMA & AAT Tuition Partners. Since becoming approved providers we have continued to challenge the traditional way of learning and grown our student base across 130 countries.




Used by Students and Members from


---
Accredited Courses by



FAQs 🤔
Doubts cleared here. No confusion.
When do I choose my specialization?
How long will I have access to the course for?
How long does each diploma take?
How many credits does each Diploma count for?